Vue Audiotechnik has added the hm-115 to its hm-Class of high-definition stage monitoring systems, slotting between the hm-112 and hm-212 in both output and physical size.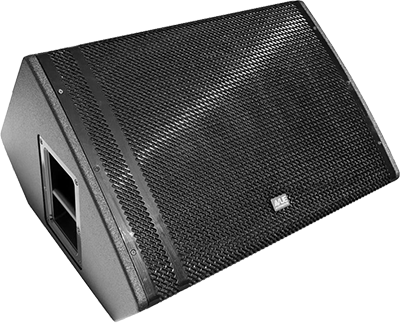 As the latest evolution in a family of stage monitors from Vue Design Chief Michael Adams, the hm-115's footprint and transducer orientation is the direct descendent of classic monitors that have shared the stage with acts such as Toby Keith, Frank Santana, Boz Scaggs, Rage Against the Machine, Def Leppard, Brian Setzer, Gary Allan, Lenny Kravitz, Elvis Costello and Lucinda Williams.
The hm-115 updates this formula by taking Vue's most advanced technologies and the design philosophy behind the company's flagship h-Class systems. From its beryllium-infused HF transducers, to the companion rack-mount V4 VueDrive Systems Engine with next-generation DSP capabilities, the hm-115 is a fully integrated, electro-acoustic monitoring system that delivers unparalleled output and fidelity for the most demanding foldback applications.
'If a speaker could have a pedigree, the hm-115 would be the loudspeaker equivalent of a thoroughbred,' says Vue CEO Ken Berger. 'Mike Adams is responsible for some of the most widely-used and universally requested stage monitors in touring history. The hm-115, and the h-Class in general, draw from Mike's vast catalogue and experience to bring a new performance standard to the stage in a familiar and well-established format.'
Key features:
Neodymium HF compression driver with 4-inch (100mm) voice coil and Truextent beryllium diaphragm.
Integrated electro-acoustic system with rackmount V4 Systems Engine.
Optimised coverage for real-world stage monitoring.
Full network monitoring and control via SystemVue Software (Mac, Windows, iOS).
Very low-profile and rugged birch ply-hardwood enclosure with 12-layer coating Dura-Coat LX finish.
More: www.vueaudio.com