Fulcrum Acoustic has launched the FW15 15-inch Coaxial Cardioid Stage Monitor – the world's first cardioid stage monitor incorporating Fulcrum Acoustic's patented Passive Cardioid Technology.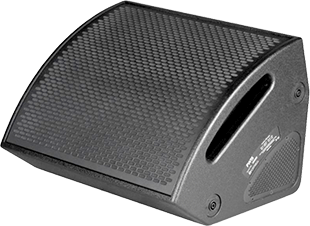 Aimed at houses of worship, theatres and performing arts centres, this proprietary technology enables tour-grade, low-profile FW15 stage monitors to attenuate rear low-frequency radiation, which interferes with the audience, stage microphones and front fill.
The FW15 uses a coaxial transducer and 75° x 75° horn to provide optimal coverage for monitoring applications, and its large-format 3-inch compression driver and 3.5-inch voice coil 15-inch woofer assures robust headroom. The monitor's pattern control, coupled with Fulcrum's TQ DSP processing gives consistency and high gain-before-feedback both on- and off-axis. The clarity and source separation of the FW15 allows performers to clearly distinguish their own voice among others.
The FW15's multi-faceted enclosure includes 40° and 55° angles for downstage and upstage distances respectively. Its road-ready, ergonomic design includes stout double grille construction and four input options positioned close to the stage to reduce the visual impact of connected cables. The powerful yet portable design also features integrated carrying handles.
The FW15 stage monitor's cardioid behaviour is produced by an acoustical circuit that balances the position of the coaxial driver/horn assembly, the enclosure depth and volume, and side ports toward the back of the cabinet that include a calibrated resistive element. The FW15's subcardioid low-frequency control produces 3-4dB of 90° off-axis rear rejection over its operating range.
This stage monitor's unique shape and compact size make it unusually unobtrusive on stage and/or camera.
More: www.fulcrum-acoustic.com