Claiming 'a major upgrade to its operating system', Klang:technologies has released KOS 3 improving workflow when working with the Klang 3D in-ear mixing system.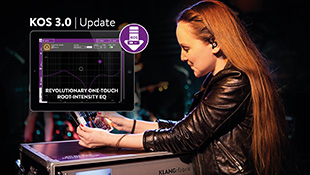 A key feature of KOS 3 is the introduction of parametric EQ, providing the equalisation of each input signal when no dedicated monitor console is available. Klang provides a comprehensive range of easily understood presets as well as graphically clear fine tuning with root intensity, allowing the tone signature of the EQ to be blended on or inverted. With one touch of a finger, the pitch of the tonal characteristic can also be adjusted. KOS 3 additionally provides an output mix EQ with presets and output phase invert.
KOS 3 also adds an improved set-up workflow. In the detailed Channels Setting View, a channel can be assigned to one of up to six groups, shown with their respective colour and icon. A group colour can be assigned to all group member channels. Scene recalls have been significantly enhanced with powerful recall safe options and a new preset screen.
Further support is included for Klang:vektor and other direction tracking devices such as the iPad tracker, with a Fix-i3D Button. This provides the ability to lock the objects on the outer orbit from spinning and place sound sources more easily, regardless of the orientation of the associated tracker. The new Compact Device List View feature is especially useful when working with more than one Klang device. Immediately it shows how many users are on one device and enables easy switching between them.
A Solo-Link in the Stage View means that when channels are soloed in the Fader View, the Stage View will focus those channels like a group. Even in shows with high channel counts, users will find their channel in the orbit immediately. When a channel is soloed, the Clear Solo button right above the master fader makes the user aware of this and lets them disable all solos for that mix in the push of a button.
The new Snapshot Control Everywhere feature means there is no need to switch between menus to recall, fire or save a snapshot. More useful statistics and Pre-set Transfer via FTP are also included in KOS 3.
'KOS 3 is the most significant upgrade to our 3D In-Ear mixing system since its launch,' says Klang:technologies' founder and Marketing Director, Dr Pascal Dietrich. 'It integrates extensive feedback from Klang users and provides them with the solutions and features most wanted. For potential buyers it offers a substantially enhanced monitoring solution.'
More: www.klang.com