Mackie has unveiled a complete line of high-performance IEMs in MP Series Professional In-Ear Monitors.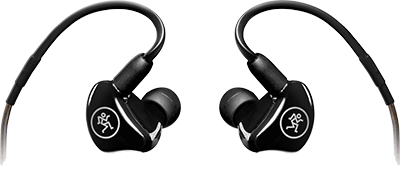 The MP Series comprises the single dynamic driver MP-120, dual dynamic driver MP-220, and dual hybrid driver MP-240. Each model has been tuned to offer clarity, bass, and headroom that challenge their price point. All models feature ergonomically moulded enclosures with three different types of ear tips included for maximum comfort. The detachable, audiophile-grade cables are shielded and internally-braided and are equipped with MMCX connectors for easy wearing and flexibility.
The MP-120 features a single large dynamic driver that offers balanced sound with plenty of low end and clarity. The MP-220 steps up the configuration to dual dynamic drivers for tighter bass response and enhanced detail in the mids and highs. The MP-240 uses a dynamic driver plus a balanced armature driver for the best of both worlds – the punchy, accurate bass of a dynamic driver and the revealing clarity of a balanced armature driver.
The Mackie MP Series Professional In-Ear Monitors include the MP-120, MP-220, and MP-240, and are available worldwide beginning February 1, 2018. Sold individually, the US MSRP pricing is US$139.99 for the MP-120, US$209.99 for the MP-220, and US$279.99 for the MP-240.
More: www.mackie.com/mp-series