Clair Brothers has expanded its One Series of coaxial stage monitors with a powered version of the 1.5AM.
The 1.5AM+ offers four preset options of DSP loudspeaker processing for crossover, EQ and limiter, including two '12AM Emulation Mode' options (32dB gain or 38dB gain) – these provide similar frequency response voicing and low-frequency phase response for compatibility with 12AM monitors.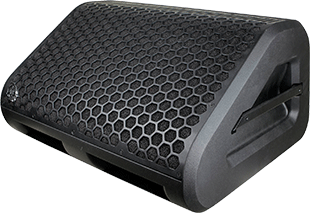 The two other presets are designed for low-frequency optimisation onstage, as the 1.5AM+ may be coupled with other two-way monitors or with stage subwoofers. Mon A offers a two-way phase vs frequency characteristic, while Mon includes an all-pass filter that aligns the low-frequency phase response with subwoofers across the lowest octaves.
Like the 1AM+, the 1.5AM+ contains a lightweight, powerful amplifier module made exclusively for Clair by Powersoft; this allows users to power a passive (non-powered) 1.5AM with a slave output. The amplifier delivers two-channel (1.6kW each) 3.2kW of total power. 'Simply connect the 1.5AM+ by cable to a non-powered 1.5AM and power the pair. While this is a mono (not stereo mix) configuration, this is a very unique, value-added feature,' says VP/Chief Engineer, Josh Sadd.
The 1.5AM+ is a coaxial design with a proprietary high-frequency rotatable horn (40°H x 60°V standard dispersion) made from premium Baltic birch. This proprietary design includes sculpted wooden acoustic filters that optimise the magnitude and phase response between the coaxial components in the crossover region – effectively avoiding the shadowing of the woofer with the horn, as well as the early reflection from the rear of the horn.
Low-profile, sleek-styling and ergonomic, flush-mounted side handles afford aesthetic appeal and portability. The 1.5AM+ monitors are travel-ready with a rugged exterior finish, a resilient grille design, and road cases designed to carry pairs. Custom systems cabling is available and can be pre-wired, labelled and delivered in road cases.
Clair Brothers intends the 1.5AM+ to be used for vocal monitoring and stage instrument reinforcement (drum fill, bass and keyboard monitors), and especially DJ/EDM monitors.
More: www.clairbrothers.com