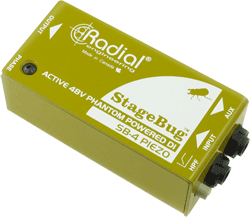 Radial Engineering has released the StageBug SB-4 Piezo, a direct injection box specifically developed for amplifying acoustic instruments with piezo-electric transducers.
The StageBug SB-4 has a quarter-inch input to connect the instrument's piezo transducer output – a 10MΩ input that offers ten times higher impedance than a traditional DI. A thru connector may be used to feed a personal stage amplifier or tuner. A XLR output feeds the PA, and is equipped with a 180° polarity reverse switch. Reversing the phase eliminates feedback without excessive equalisation or notch filtering. To further reduce feedback, a low-pass filter eliminates excessive bass that can cause the instrument to resonate. This also helps clean up the mix when combining multiple instruments.
'Over the past ten years, our engineering team has been re-evaluating how the direct box is used, what works and where problems continue to cause havoc,' says Radial Chief Engineer, Dan Fraser. 'The Radial J48 changed the way we loaded the magnetic pickup for a more natural sound and it has become "standard equipment" on many of the world's most prominent stages.
'In late 2012, we released the Radial PZ-DI, a direct box that is able to adapt to a wide range of pickups including piezos. The PZ-DI was recently adopted by Rush for a string section and Zac Brown for traditional bluegrass instruments, creating an awareness that if treated properly, piezo pickups can actually sound really good. We felt that it would be great if we could produce a pared down version of the PZ-DI that the travelling artist could carry in his or her gig-bag. This became the StageBug SB-4.'
See also:
More: www.radialeng.com