Radial Engineering has announced the Mix 2:1 – promising 'a simple yet highly useful mixer that passively sums two audio channels down to one'.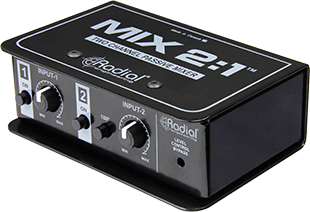 The box can be used to sum the stereo outputs of a console, recording interface or portable playback device down to mono, or to mix any two signals together and balance their relative input levels.
Quarter-inch TRS and XLR connectors provide input connection to the Mix 2:1, with ground lift switches to eliminate buzz and hum from ground loops and ensure noise-free operation. Each input can be individually engaged or disengaged, allowing either signal to be auditioned before being summing. A trim control is also featured on each input, so if two separate mono sources – such as the outputs of two mic preamps – are being connected, they can each be attenuated as needed to match their levels at the output.
Both level controls can be completely bypassed, summing Inputs 1 and 2 equally to prevent accidental or unwanted level adjustments. The Mix 2:1 has a 180° flip on Input 2 to help solve issues with frequency cancellation due to the inputs being out of phase. After both signals are passively summed together, they feed a single XLR output that can be connected to a powered speaker, or the input of a console or recording interface.
The Mix21 will ship with an MAP of US$129.99.
More: www.radialeng.com