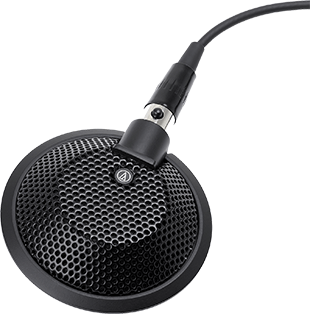 Audio-Technica has introduced the U841R Omnidirectional Condenser Boundary Microphone as an update to, and replacement for, AtheT's U841A. While retaining the feature set, the U841R is enhanced with internal electronics that do not require an external power module. The mic features an integral TA3M connector and includes a 25-ft TA3F-to-XLRM cable.
The U841R delivers intelligible audio reproduction in a super-compact, low-profile design. Equipped with UniGuard RFI-shielding technology, this omnidirectional condenser boundary microphone is designed to capture audio for clear sound reinforcement, professional recording, television and conferencing in surface-mount applications. The U841R has a 360° pickup angle and operates on phantom power.
Key features:
· UniGuard RFI-shielding technology.
· Small-diameter capsule near boundary.
· Heavy die-cast case and silicone foam bottom pad.
· Low-profile design with low-reflectance black finish.
· Fixed-charge back plate permanently polarised condenser element.
· Omnidirectional pickup in hemisphere above mounting surface
· 40Hx-20kHz Frrequency response.
· -35dB (17.7mV) re 1V at 1Pa circuit sensitivity.
· 200Ω impedance.
· 130dB (1kHz at 1%THD) max input sound level.
· 105dB (1kHz at Max SPL) dynamic range.
· 69dB (1kHz at 1Pa) signal-to-noise ratio.
· 11-52V DC, 2mA typical phantom power.
The U841R Boundary Microphone will be available Q3 2017 at price of US$199.
More: www.audio-technica.com