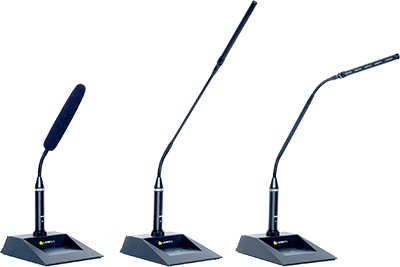 Austrian microphone manufacturer Lewitt Audio has announced a line of conference microphones, including switch and non-switch bases, single-and double-goosenecks and a shotgun condenser capsule.
The Lewitt Conference Series provides natural, transparent and most intelligible voice reproduction for podiums, house of worship and conference rooms of any size. The condenser capsules linear frequency response is optimised for a speaking distance of about 300mm, while its shotgun polar pattern promises efficient off-axis rejection and high gain before feedback.
Single- and double-goosenecks are available in different lengths, and guarantee quick and accurate positioning.
Key features:
· Shotgun condenser capsule.
· Efficient off-axis rejection in excessive ambient noise environments.
· Highly linear frequency-response.
· Analogue 3-pin XLR output.
· High handling-noise reduction.
· High gain before feedback.
· Single/double-gooseneck design.
· Switch and non-switch base designs.
· Non-reflective matte black coating.
More: www.lewitt-audio.com