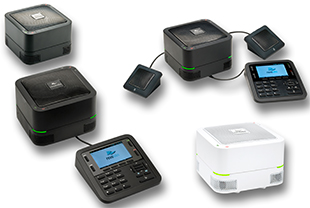 Exploiting its 'wholly owned subsidiary' relationship with the Yamaha Corporation, Revolabs has announced a collaboration product with its parent – the FLX UX range of VoIP and USB conference systems.
'As the meeting place environment continues to evolve to include smaller, ad hoc collaboration spaces, organisations are wrestling with how to simplify the communications experience without sacrificing quality,' says Revolabs CEO and President, JP Carney. 'Working with our parent company, we used our expertise in creating natural, productive meeting experiences to approach the challenges these new spaces present. At Enterprise Connect 2017, attendees will see Revolabs' latest product affordably solves this transition and integrates with our technology partners to ease ecosystem complexities.'
Made to provide collaboration teams the ability to bridge calls between market-leading IP PBX systems and USB applications, FLX UC 1000 is as easy as plug-and-play with PCs, Macs, Chromebooks and other devices for practically any environment. The device contains genuine tweeter and mid-woofer elements and four integrated microphones, with a sleek external dial pad.
The system also delivers wideband sound for connection to any laptop, PC or tablet, and for use with communication applications such as Skype, Vidyo, Microsoft Lync, Cisco Jabber, WebEx among others. Well suited to huddle rooms, executive offices, and small to medium-sized conference rooms, the FLX UC 1000 provides a bridge the gap between USB and VoIP for unified collaboration.
More: www.revolabs.com