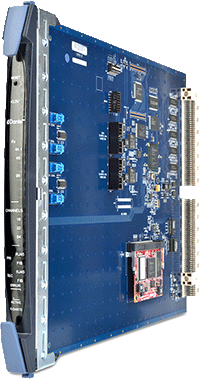 Clear-Com has announced a Dante interface card – the E-Dante64-HX – for its Eclipse-HX range of matrices.
The Dante/AES67 card is compatible with Eclipse HX-Omega, Median, and Delta matrix systems, and provides transport of up to 64 channels of high-quality audio to multiple AoIP devices using standard Ethernet network infrastructure. It supports all professional sample rates, including a 96kHz, 32-channel option.
High-quality audio interfacing allows Eclipse-HX units to route audio to and from multiple sources over standard network infrastructure. It is typically employed to route IFB feeds to/from a mixing console to provide instruction to on-air talent. When needed, the card can be readily used in the broadcast chain offering a high-quality, low-latency transport.
'As IP protocols and workflows continue to gain momentum, interoperability is key to ensuring all elements can talk to each other,' says Product Manager, Stephen Sandford. 'The Eclipse-HX Dante card is a significant development that enables dependable connection and high audio quality for any broadcast environment or production event.'
Key features:
· Dante and AES67 compatibility.
· Primary and Secondary network connections (RJ-45 or fibre).
· Dynamic update of intercom panel labels from network devices.
· Up to 64 channels per card with a maximum of seven cards per matrix frame.
· Indicators showing channel quantity, health and sample rate.
The E-Dante64-HX Interface Card is now shipping.
More: www.clearcom.com