Sennheiser is expanding its range of business products with the TeamConnect Wireless Set Tray M and SL Boundary 114-S DW microphone.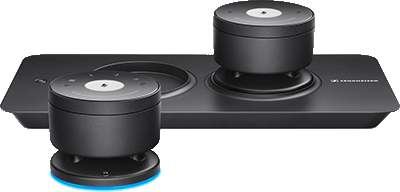 Where the offers Sennheiser's innovative wireless conferencing solution in a new smaller configuration, the SL Boundary 114-S DW increases the flexibility and ease-of-use of thw SpeechLine family of speech-dedicated microphones.
TeamConnect Wireless Set Tray M reckons to turn any room into a meeting venue using two (rather than four satellites) that can be charged with its stationary charging and docking tray for dedicated meeting rooms and conferences for up to 12 participants. The portable wireless system supports multiple connectivity options with any smartphone, laptop or PC via Bluetooth, USB, or 3.5mm jack to cater for a wide range of Unified Communications demands.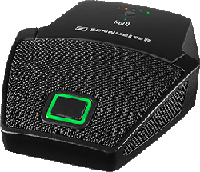 Dedicated to speech, the SL Boundary 114-S DW extends the capability of the TeamConnect conferencing system with a wireless solution. The cable free microphone is easily adapted to any conference setting, while its wide coverage ensures that conference participants don't need to speak directly into or even sit close to the microphone as it automatically picks up and enhances the voices of speakers' in the room.
The SL Boundary 114-S DW also offers the simplicity of wireless charging and can be charged with the recently-launched CHG QI 2 wireless charging system. The CHG QI 2 uses the most commonly used wireless Qi Charging standard to provide convenient wireless charging for two mobile devices simultaneously. The SL Boundary 114-S DW can also be charged via USB.
The microphone itself provides clear battery life indication via dedicated battery status LEDs, while intuitive and easy set-up and detailed monitoring and control is possible with Sennheiser's comprehensive Control Cockpit software suite.
More: www.sennheiser.com