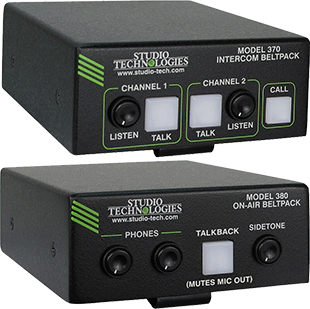 Studio Technologies' new Model 370 Intercom Beltpack and Model 380 On-Air Beltpack use Dante Audio-over-Ethernet network media technology to provide intercom and on-air audio solutions for fixed and mobile broadcast facilities.
The Model 370 Intercom Beltpack starts with the features required of traditional broadcast 2-channel party-line (PL) intercom user devices and adds the advanced performance and capabilities that Dante Audio-over-Ethernet allows. Over a standard IP network, multiple Model 370 units can be used in PL intercom applications with help from an external Dante-enabled audio matrix. Units can also be used 'point-to-point' or directly interfaced with ports on compatible matrix intercom systems. Only a single Power-over-Ethernet (PoE) connection is required for operation. Several user features can be easily configured to meets the needs of various applications. A 'call' function, compatible with traditional broadcast PL systems, is included. These capabilities are combined with the high-quality audio that the digital signal path.
The Model 380 On-Air Beltpack offers a combination of audio resources, including both on-air and talent cue (IFB) capabilities in a compact, portable package. Optimised for broadcast sports and newsgathering applications, it allows incredibly-simple deployment while providing essential user features and maintaining 'professional' audio. The Model 380 integrates directly into both Dante and standard analogue audio environments. With just a PoE connection, a microphone and a pair of headphones or an earpiece, a complete broadcast stand-up on-air position can be created.
'The Model 370 and 380 beltpacks leverage the power of Dante and standard LAN networking to offer exciting new ways of meeting the needs of sports and broadcast applications,' says Studio Technologies President, Gordon Kapes. 'With the rapid shift to Audio-over-Ethernet, legacy solutions are no longer applicable. The Model 370 and 380 units solve traditional needs in non-traditional ways.'
More: www.studio-tech.com