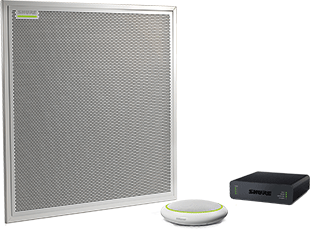 Shure aims to 'dramatically improve the audio quality for modern conferencing applications where pristine speech intelligibility is of utmost importance' with the release of its Microflex Advance (MXA).
Comprising high-quality networked ceiling and table array microphones, audio interfaces, intelligent mixing DSP and intuitive, browser-based control software, Microflex Advance is presented as a discreet, architecturally unobtrusive design. 'This isn't just about selling clever technology,' says Shure Distribution UK MD, Peter James. 'Bad sound in the workplace is both frustrating and a hindrance to productivity. Videoconferencing is a great invention, but you can't be understood if you can't be heard properly, and that's an issue for management and employees alike. Make the sound better, and not only will the quality of your conferences improve, your internal communications will be generally better, and your organisation more productive.'
It is increasingly accepted that noisy workplaces are detrimental to conversation and concentration. When communication is taking place via microphones and loudspeakers, the words spoken are much more susceptible to misunderstanding if the environment at either end is noisy. As refined as modern microphone technology has become, it is essentially passive, cannot distinguish between wanted audio (a person speaking) and unwanted noise (fans, air conditioning, printers) and will reproduce everything indiscriminately, to the detriment of intelligibility.
Microflex Advance addresses these issues with technologies including software control of the array microphones' pickup patterns – Shure's proprietary Steerable Coverage technology. The Microflex Advance ceiling array offers an adjustable pickup pattern with eight lobes that can be defined in three dimensions, and can be flush-mounted with ceiling tiles or suspended to avoid fans or ceiling-mount projectors. The table array microphone captures up to four channels of audio from around a desk or conference table and offers an innovative, wholly new toroidal pickup pattern to reject unwanted sound from overhead. Signals from the array are auto-mixed by proprietary IntelliMix DSP, allowing activation of the optimum microphone while attenuating microphones that are not being addressed.
The audio can also be interfaced with a Dante audio network via a single standard Ethernet cable connection. Simple-to-use, browser-based software controls connectivity and monitoring. Preset configurations are included for typical operations, and the system is designed to integrate with third-party audio control systems, such as those from Crestron, AMX or QSC.
'The perfect conferencing solution is a balance,' James says. 'It has to produce high-quality sound, irrespective of how the presenters are using it or bad room acoustics, in addition to being user friendly and integrating perfectly with architectural aesthetics and your network infrastructure. Microflex Advance successfully achieves all of these things. Integrators can have the system on the network and up and running quickly, anyone can operate the system once installed, and the technical innovations we've incorporated in the design of the mic arrays and pickup patterns increase productivity and minimise downtime by ensuring consistent sound quality from any location within your meeting space.'
'Microflex Advance is unique because it combines the deep roots of expertise Shure has demonstrated in both the acoustic and digital signal processing domains,' says Shure Inc Global Product Associate Manager, Rob Klegon. 'However, in building this system we knew we had to go beyond pure technical innovation to meet the needs of today's corporate environments. As a result, each feature of Microflex Advance is engineered to provide best-in-class performance, from the acoustics and digital signal processing, to the usability and aesthetic design.'
Microflex Advance will be available in Q2 2016.
More:
www.shure.com