Revolabs' has added to its Elite Wired family of conferencing systems with new wired microphones with Local & External Control. The new models come in a variety of formats and colours, and add enhanced mute functionality.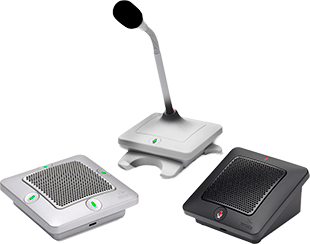 New to the Elite Wired line is a five-wire microphone that augments its three-wire predecessor, offering local control of push-to-talk, push-to-mute, and mute toggle control, as well as integration with DSP systems for programmable remote mute control. The five-wire version also incorporates an LED for visual indication of the mute state, so users always know whether the mics are live or muted.
Intended for application that use wired, wireless or a combination of the two microphone types, the Elite Wired Microphones with Local & External Control provide the same user interface and experience as other microphones in the Elite Wired and Executive Elite wireless microphone families. The ability to operate a hybrid-mic set-up increases the maximum number of microphones available in a space and combines wireless flexibility with the security of wired mics.
The new Elite Wired Microphones are available in directional and omnidirectional versions, as well as 6-inch and 12-inch gooseneck versions, and come in black, white, and brushed nickel to match a variety of interior designs and architectural environments.
'Our new microphones allow mute to be toggled locally using a button on the microphone itself, as well as remotely through an external control system,' says, Executive VP of Global Sales, Jim Fairweather. 'The addition of these microphones to our portfolio gives customers a broad set of choices to select microphones that best fit their needs and opens up more control options for today's varied and dynamic conferencing and presentation environments.'
More: www.revolabs.com