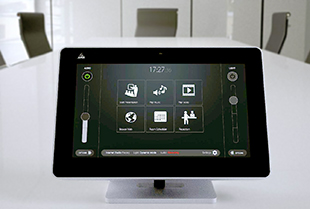 Apex has announced an 'all-in-one' conference room control system, Liviau R, offering full control over presentations and complete room control – including lighting, video, audio and other automated services.
Liviau's 10.1-inch touchscreen interface displays only the information required during meetings and presentations. The menu places all meeting/presentation funtions under fingertip control. This can also be mirrored to an external device, allowing control from anywhere in the room.
Liviau supports wireless presentations from a laptop, tablet or smartphone using the device's Airplay, Chromecast or Miracast technology. Content that is regularly used may be stored in Liviau R's internal memory for ready accessibility when required. A built-in web browser allows access to information stored on other servers, or for quick searches and sharing of information. Meetings can also be recorded and archived for later consultation.
Another feature of Liviau R is its high definition audio capabilities. The device offers a built-in audio mixer that incorporates a DSP processor with multiple EQ and limiting facilities and an integrated two-channel 50W amplifier. Earphones, MP3 players and wireless headphones may connected via Bluetooth and the internal music player or internet radio offer background music.
In terms of control, Liviau R offers simple control of audio and lighting levels at all times via two faders situated at the left and right of the touchscreen. Extensive automation features allow for events such as closing blinds, retracting screens to be triggered on demand. Conventional room lights are easily controlled and LED lighting colour can be selected via a colour wheel.
Housed in a robust streamlined aluminium casing, Liviau R may be desk- or wall-mounted. It offers an integrated solution to all A/V conferencing at under €3,000.

See also:
Apex Liviau S
More: www.apex-liviau.com