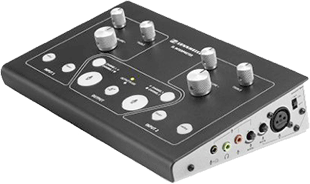 Sennheiser has expanded its Tourguide conference and presentation system with the release of the SL Interpreter console for controlling language interpretation channels.
As a self-contained unit for simultaneous interpretation, SL Interpreter offer the key functionality of an interpreting console and, the rackmount SR 2020 Tourguide transmitter and Tourguide 2020 receivers (available in bodypack and stethoset versions), it delivers scalable language interpreting with simple installation and user-friendly operation. For more demanding applications, SL Interpreter and Tourguide 1039 bodypack receivers are the best combination to ensure optimum speech intelligibility, even in environments with heavy RF traffic.
SL Interpreter handles the floor language plus one relay language. If more translations are needed, up to four interpreting consoles can be combined in order to provide simultaneous interpreting in up to four languages.
Two interpreters can use each SL Interpreter console, which enables them to take turns at interpreting. Each interpreter can individually adjust the audio settings at the console. In addition to controls for volume, treble and bass, the new Sennheiser interpreting console has a mute function and 'cough' button to briefly mute the microphone.
'Whether you're doing a small product presentation or an international conference with hundreds of participants – SL Interpreter will impress with its flexibility and ease of use,' says Sennheiser's Manager of Portfolio & Channel Development Integrated Systems, Wienand Mensendiek.
More: www.sennheiser.com