Clear-Com has released the Linq series of comms interfaces, enabling connection of two-wire partyline with call signalling and four-wire audio over LAN, WAN or Internet IP infrastructures.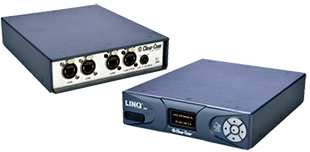 Based on Clear-Com's IV-Core technology, Linq is available in two-wire (Linq-2W2) or four-wire (Linq-4W2) options. The Linq-2W2 is both Clear-Com and RTS TW compatible. The Linq-4W2 can interconnect with devices, such as analogue ports of any matrix intercom system, analog telephone circuits, two-way radio gateways and audio consoles. A maximum of six Linq IP interfaces can be linked together in any 2-wire or 4-wire combination.
Linq uses the Opus high-quality audio codec, allowing bitrate, bandwidth and delay to be changed quickly without introducing distortion or discontinuity in the audio. As a low audio latency communication link, Linq can be used for natural intercom conversation, networked music performances and for audio signals that are transported via different facilities (transmission sync).
The creation of virtual partylines within a linked group is an exclusive feature. Channels from any of the six devices in the network can be linked to create common virtual partylines. At least two channels must be associated to each other. Linq uses a touch-friendly web-based user interface to configure, control and monitor any device within a linked group.
'Linq is a simple yet significant development that enables users to expand their remote communications quickly and easily,' says Clear-Com Product Manager, Stephen Sandford.
More: www.clearcom.com