Shure has announced the Microflex Advance MXA902 Integrated Conferencing Ceiling Array – the world's first conferencing ceiling array microphone with integrated loudspeaker and IntelliMix DSP for small and medium-sized meeting rooms.
Since 2016, Shure's Microflex Advance ceiling, wall and table array microphones have a premier choice for A/V conferencing applications. Following the launch of the MXA920 Ceiling Array Microphone in 2022, Shure has now extended its Microflex Ecosystem portfolio with a new solution for meeting rooms that delivers microphone, loudspeaker, and DSP technology in a single device.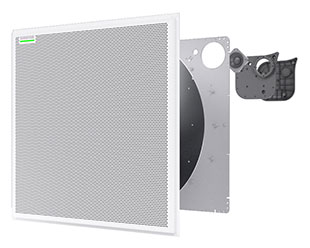 'In today's dynamic work environment, IT managers and A/V professionals seek a reliable audio solution that's easy to configure out-of-the-box, enabling them to efficiently transform any small to medium-sized room into an equitable meeting space,' the company says. 'The MXA902 is a complete ceiling-mounted audio solution for A/V conferencing, ideal for delivering premium audio capture and reproduction with minimal setup required. Offering a state-of-the-art array microphone for enhanced directional voice capture and an integrated wide-dispersion loudspeaker for natural sounding far-end speech, users will experience the ultimate blend of superior sound quality and streamlined deployment. Onboard IntelliMix DSP applies automatic mixing, echo cancellation, noise reduction, and automatic gain control.
'Most conference rooms and meeting spaces no longer address the needs of modern-day professionals,' continues Shure Conferencing Product Manager, Evan Groom. 'Employees are more discerning than ever – opting to meet in spaces that best support hybrid collaboration with in-office technology that is both flexible and effective. We've recognised the depth of our customers' needs with the MXA902 as a solution that delivers the best audio capture and reproduction technology for all users in the room. With the microphone, loudspeaker, and DSP all in one device, the MXA902 helps improve the overall room design, creating a sleek and elegant meeting room without extension mics and extra wires – a win for end users and a win for IT and installation professionals.'
To provide a seamless collaboration experience, the MXA902 is Certified for Microsoft Teams and Zoom Rooms when paired with the USB Audio Network Interface with Matrix Mixing (AniUSB-Matrix). The MXA902 and AniUSB-Matrix have undergone rigorous and comprehensive tests in lab and real-life environments. IT professionals and integrators are assured that Shure continues to deliver the highest standards in collaboration performance.
The MXA902 is designed with Single Zone Automatic Coverage Technology, which covers a 20ft x 20ft space with minimal configuration needed, enabling users to easily and automatically capture the talkers they wish to hear while avoiding noise in other areas of the room. This feature is combined with a wide-dispersion 2.5-inch high-quality loudspeaker to deliver excellent sound capture and listening from one device. The MXA902 comes with Shure's IntelliMix DSP onboard, and can leverage Automatic Gain Control, Acoustic Echo Cancellation, Noise Reduction and Automatic Mixing to help deliver clear, crisp sound for all in-room and remote meeting participants.
The MXA902 is built with Shure Audio Encryption to ensure that audio content is protected among all Shure Microflex Ecosystem devices in the room, giving customers peace of mind when it comes to meeting confidentiality.
The MXA902 was built for IT managers and A/V professionals of all experience levels, making it ideal for anyone looking for an installation-friendly Microflex Ecosystem solution for small to medium collaboration spaces. The MXA902 is further compatible with MXA900 series accessory kits, delivering a simplified mounting system that works with a variety of ceiling types, including in-ceiling, on-ceiling, pole, or wire rope. A sleek, white (and paintable) industrial design fits most architectural needs of today's meeting rooms, so installers don't have to worry about making additional cosmetic changes.
More: www.shure.com/mxa902