Ampetronic has launched its new flagship product, the C14-2 Hearing Loop Driver, and announced the availability of a Dante option on all C Series models, including the C5 and C7 variants. .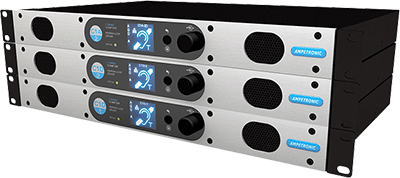 Following the C5 and C7 hearing loop drivers, the company is also extending the C Series range to include the new C10-1 and C10-2models.
'With the addition of the new C10 and C14 models, the C Series offers performance, consistency and certainty of results across a full range of hearing loop drivers,' says Ampetronic Technical Support Manager, Chris Dale. 'Known for their simple interface, connectivity, ease of installation and powerful monitoring and maintenance tools, the C Series can now meet any hearing loop requirement.
'The C14-2, our new flagship driver, is particularly impressive with a massive 14ARMS/48VRMS, making it the most powerful hearing loop driver on the market. The higher voltage that the C14-2 offers enables you to drive larger systems than ever, allowing a single amplifier to be used in large areas that would previously have needed two.'
The C10-1, C10-2 and C14-2 will ship in Q3 2021.
More: www.ampetronic.com