Key Digital's KD-BYOD4K Wireless Presentation Gateway is an affordable, simple-to-operate, all-in-one collaborative meeting solution for businesses returning to in-person and hybrid meeting scenarios.
The KD-BYOD4K is a single-chassis Bring-Your-Own-Device (BYOD) collaboration solution, allowing meeting participants to cast content contact-free to any designated display or projector via Wi-Fi from laptops, tablets and smartphones for big-screen presentation and markup. It readily accommodates a high-definition wireless connection from all major platforms – Windows and Mac OS via the dedicated KDPlay system application, from Chromebooks via Google Chromecast software, from Android via Chromecast software or the KDPlay app and from iOS devices via Apple AirPlay.
Multiple meeting participants may simultaneously present and cast content wirelessly, breaking down barriers encountered when switching between and incorporating multiple formats and operating systems. Up to four presenters may share content simultaneously using the automatically-adjusting screen layout. Remote participation can be accommodated by dedicating a laptop to perform as a bridge from Zoom, Microsoft Teams or other similar software platforms.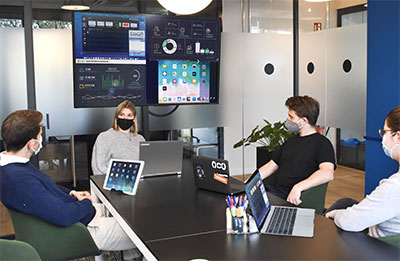 The unit features annotation, moderator management, and touchscreen and mouse control. Overlay tools are employed on the annotation and white board screens for real-time collaboration featuring screen captures that are downloadable via QR codes or through the unit's web browser GUI.
Suited to conference, huddle and event spaces, the KD-BYOD4K's initial set-up can be completed in under ten minutes. The KDPlay app can be quickly loaded onto participants' laptops from the KD-BYOD4K unit's web page or by plugging in the included KDPlay Flash USB drive for auto launch. The KDPlay Android app is a fast download away from content casting for Android devices not supporting Chromecast, and the KD-BYOD4K offers direct native support for AirPlay and Chromecast.
Moderator management allows a designated team member to start and stop casting from selected devices via the convenient, collapsible KDPlay dock on the side of their laptop display, which features content thumbnail previews and names of paired devices. Using touchscreen and mouse forwarding features, the unit allows connection by USB to the unit for point-and-click functionality– this feature also works with up to four presenters at once.
'The KD-BYOD4K is a compact, single-chassis solution that improves meeting flow and efficiency and encourages content sharing by simplifying the process of connecting and switching between multiple meeting members,' says Key Digital COO, Masha Lakhter. 'Whatever device participants carry into a meeting can be handled wirelessly and reliably with excellent video resolution for even the most detailed content such as reports and spreadsheets. Dual internet connections allow a simultaneous connection from public and internal protected networks protecting network security while also allowing internet connectivity.'
Web GUI administration allows access via LAN to the unit set-up, moderator, and security tools on the web browser interface. Support documents and app downloads are also available through this administrator web GUI. With POE the device may be powered using its POE supported LAN port. Audio of the casted devices is de-embedded at the unit's analogue LR audio connector for use with audio amplification and mixing systems.
If further extended capabilities are needed, the KD-BYOD4K is part of Key Digital's hardware and software ecosystem of Presentation Solutions –including presentation switchers, multi-format video switchers with HDBaseT extender transmitters, and HDBaseT receivers with multi-format video outputs and audio de-embedding, video tiling processors and USB cameras.
The KD-BYOD4K complete wireless presentation solution is at US$699 MSRP.
More: https://keydigital.org