Following the acquisition of Stem Audio in late 2020, Shure is redefining its conferencing portfolio to bring the Microflex product line together with Stem Ecosystem for end-users seeking straightforward audio for daily conferencing needs. Together, Shure's Stem Ecosystem and Microflex Ecosystem solutions claim best-in-class options without compromising on performance or ease of deployment.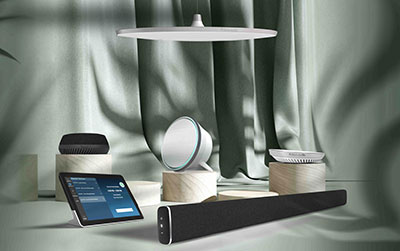 Since Stem Ecosystem products were designed for 'anyone and any room', users can design, install, and manage meeting rooms using a robust platform full of tools designed to support the process of adopting new technology. 'We believe in the difference a complete solution can make,' says Stem Audio MD, Jacob Marash. 'By joining forces, we can truly serve any type of customer from any technical background with a complete portfolio for all types of environments, whether it requires a fully integrated system or a solution you can install yourself.'
Stem Ecosystem solutions include wall and table speakerphones, along with a ceiling microphone that blends into any room and syncs with networked loudspeakers, as well as dedicated control systems for a complete audio package. This includes Stem Wall, which equipped with 15 microphones that perform beamforming, plus full-range loudspeakers and subwoofers; Stem Table, which is optimised for tabletops and flat surfaces using nine microphones that perform real beamforming and a downward-facing loudspeaker; and Stem Ceiling, a 100 microphone ceiling array that offers two mounting options (low profile or chandelier mode) and three-beam options for coverage in any meeting room.
Additionally, Stem Speaker is give users the freedom to expand sound to anywhere in the room, the through a PoE+ powered external loudspeaker with three mounting options, Stem Hub to accommodate the use of more than one Stem Ecosystem device in a room –Stem Hub enables multiple units to communicate with each other and function effectively as an integrated solution with USB Type B, ethernet, Dante, VoIP connectivity.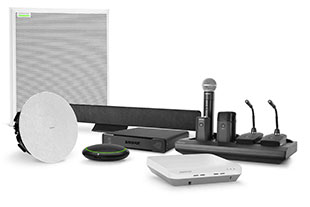 Stem Control is a dedicated touch controller that connects to the network with a single Ethernet connection, providing access to the Stem Ecosystem platform and remote management of an organisation, or can be used as an in-meeting controller with video conferencing platforms.
All Stem Ecosystem devices are networked PoE+ powered, and can be installed without professional support.
Microflex Ecosystem solutions work with leading third-party software and hardware conferencing platforms, including Zoom, Cisco WebEx, and others. Microflex Ecosystem microphones, DSP, and loudspeakers are certified for Microsoft Teams. Connections are secure for Shure devices in the room with Shure Audio Encryption and users can seamlessly expand and manage their entire audio chain over any network infrastructure with Dante Domain Manager.
'By maintaining the Stem Audio portfolio as a distinct set of products and offering our customers the option of two ecosystems, Shure can offer products with the right levels of customisability, features, design, and price to suit every type of customer and every type of environment without having to compromise,' says Shure VP of Global System Sales at, Jim Schanz.