Recognising the specific unique requirements of government agencies, public institutions and non-governmental organisations for conferencing systems, Shure has announced a hardware customisation program for the Microflex Complete (MXC) Digital Conference System.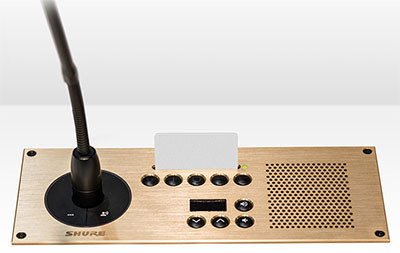 Addressing environments that can pose installation and design constraints, meeting procedures that may require a specific control layout, and the need to aesthetically integrate hardware into a room's interior styling, this new customisation programme for the MXC Digital Conference System enables installers to respond efficiently to special requests for unique hardware variations.
Shure's customised flush-mount conference units are available with a range of options to suit a wide variety of needs and installation scenarios, including adapting front pane sizes to specified dimensions; colour options in both brushed and matte finishes, including black (standard), aluminium clearcoat, bronze, gold, grey, blue, orange and red; customer logo and button labels in alternative languages; a control layout that matches customers' meeting procedures; and colour touchscreens that display meeting information (speaker list, agenda) and enables control of features (interpretation channel selection, voting).
'Building on our decades of history in customisation and discussion systems, Shure now has honed the process to deliver customised Microflex Complete hardware,' says Shure Systems Sales Senior Director, Rob Smith. 'With customisation of the latest conferencing products in our portfolio, Shure is fully equipped to address specific needs of end-users around the world.'​
The MXC Digital Conference System is offered in a variety of portable, flush-mounted, and modular conference units, and is scalable for large conferences with thousands of delegates to smaller configurations in boardrooms or council chambers. It is designed for formal meetings with up to 3,800 participants, with microphones that can be controlled by users or by a designated chairperson. Voting, agenda, identity verification and speech time control are also supported.
MXC also supports up to 31 interpretation channels for multi-lingual conferences.
More: www.shure.com/mxccustom