Shure has announced a new range of products offering 'a complete conferencing audio ecosystem' to systems integrators and A/V professionals with
The expanded range of Microflex Advance products , along with with complementary software for design, management and control, expands options open to systems integrators equipping meeting and collaboration environments. These are all natively designed to work with each other, and with IntelliMix audio signal processing in either device-based or software formats.
With the introduction of the Microflex MXN5-C Networked Loudspeaker, along with the MXA710, MXA310, MXA910, Networked Mute Button, Designer, SystemOn, P300, and IntelliMix Room, Shure supports the complete audio signal chain, from input to output.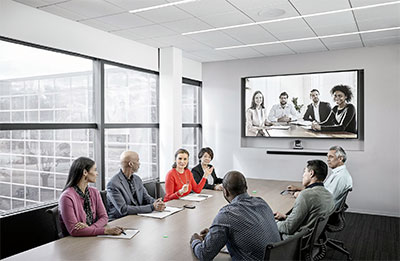 The complete Shure conferencing audio ecosystem comprises: ceiling array microphones, table array microphones and linear array microphones; networked ceiling loudspeakers; an audio conferencing processor and audio processing software; system configuration software and remote management software; and a network mute button and audio network interfaces
'Premium audio is essential for business,' says Shure Senior Director, Networked Systems, Chad Wiggins. 'Shure is the market-leading provider of a comprehensive, premium audio hardware and software ecosystem for conferencing. We feature innovative and scalable solutions of networked microphones, DSPs, and loudspeakers for small meeting rooms to large boardrooms and everything in between.'
The Shure audio conference ecosystem is flexible across audio system architectures in all room types. It operates with leading third-party software and hardware conferencing platforms, including Zoom, Microsoft Teams, Cisco, and others to secure certifications and ensure compatibility. It allows more rooms to be set up in less time using Shure Designer software for system-wide integration. A/V techs have visibility to everything on network with SystemOn for easy monitoring/troubleshooting.
Shure offers availability of product bundles for specific room size requirements so rooms are more consistent-sounding from room to room, providing a turnkey audio solution
'Shure's portfolio now includes the complete audio signal chain from microphone to DSP to loudspeaker, providing audio solutions for environments of all types with unmatched ease of deployment, less complexity, and remote management,' Wiggins says.
More: www.shure.com/ecosystem