New company punQtum has released its début product – the Q110 Beltpack, the first element of a larger networked intercom system that supports up to 32 partylines via standard IP networks and infrastructures.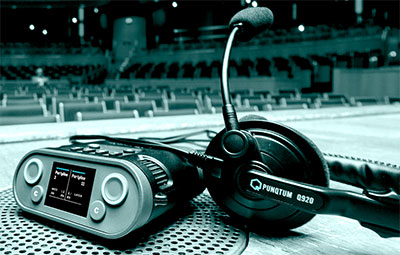 Designed for plug-and-play use on a digital platform that is as easy to use as analogue intercom, the Q110 provides the functionality to help crews communicate better.
All functions are readily accessible through ergonomically designed buttons and an easy-to-read colour display. In a stand-alone capacity, the Q110 offers instant access to two channels of partyline intercom, and besides being powered via standard PoE switches, the Q110 Beltpack offers the option to daisy-chain up to eight units on a single wire. The feature set also allows for any missed comms to be replayed in a 'voice-mail' style set-up. Providing scalability, the Q110 suits systems of any size, ranging from small events requiring just two beltpacks to as many are required for large, complex systems.
Using AES67 as a technology cornerstone, the punQtum Intercom system integrates with AES67-compliant networks such as Dante and Ravenna. Additionally, punQtum will shortly release a multi-platform editing software for easy configuration and management of systems.
'The Q110 Beltpack offers all the benefits of digital technology in a package that's as easy to use as any analogue intercom,' says CEO, Arie van den Broek. 'It's flexible, scalable, plug-and-play right out of the box, and extremely accessible price-wise. It's got all the features you need, and none that you don't – in other words, it's a truly useful, workmanlike product, and completely representative of the ethos of our company. We're proud to deliver it as our first product and we can assure you that there is more to come.'
More: http://punqtum.direct