Shure is claiming 'a groundbreaking innovation in digital signal processing for A/V conferencing' with the launch of IntelliMix Room, audio processing software for Windows 10 PCs for use with Shure networked system mics.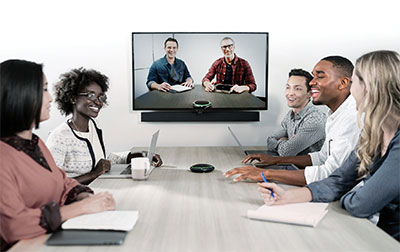 IntelliMix Room is a software-based DSP that requires minimal customer configuration or additional special hardware, reducing the costs and footprint required for A/V conferencing. It can be deployed to in-room Windows 10 PCs and meeting control devices that are already in place to run popular software-based A/V conferencing services, bringing premium audio to video conference calls.
This software-based approach is also reckoned to enable systems integrators to install more rooms, more easily, more consistently and more cost-effectively than traditional hardware-based DSP solutions. Providing up to 16 channels of audio processing, IntelliMix Room deploys the same algorithms as Shure's P300 IntelliMix Audio Conferencing Processor, but is installed on the same in-room PC as the conferencing soft codec.
IntelliMix algorithms are designed to optimise the performance of Shure conferencing microphones such as the MXA910 ceiling array, MXA310 table array and Microflex Wireless, aggregating and optimising the audio output of multiple microphone sources and thus scales-up to support complex boardroom deployments. With echo cancellation, noise reduction, automatic mixing, automatic gain control, and secure Dante routing, IntelliMix Room automatically produces a single channel of conference-ready audio.
IntelliMix Room is licensed on three-year and five-year options. It offers deployments of either up to eight or 16 channels of processed audio which includes support and maintenance. Using Shure's free Designer software, integrators can either set up rooms using supplied templates, or configure their own for consistent large-scale deployments in customers' facilities. IntelliMix Room's software-only approach for DSP is particularly suited to progressive systems integrators offering A/V-as-a-service solutions to their end-customers.
Key features:
Natural audio quality for more room sizes and budgets.
Consistent A/V quality across rooms.
Fully Dante compliant.
Enterprise-wide licensing.
Scalability and lower maintenance costs.
Ease of deployment and management.
Audio over the Dante network secured via Shure Network Audio Encryption.
'Shure is rising to the AV demand,' says, Vice President of Global Systems Sales, Jim Schanz. 'The pace of corporate consults and installs is increasing by the day and integrators need a way to take the complexity out of setup and put time back on their side. Now they have a secured solution.'
IntelliMix Room will initially be available via selected partners in North America and Western Europe ahead of global availability later in 2020.
More: www.shure.com/imxroom