MXL Microphones has announced the AC-44 USB Web Conferencing Mic and MXL AC-44 LCR multi-microphone system for use with a Zoom Room Speaker Switch.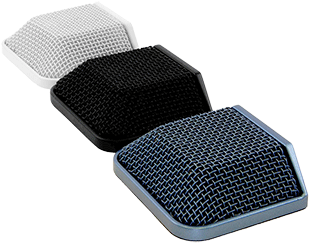 The latest addition to its line of USB conferencing microphones, the AC-44 has a compact footprint and is 1-inch tall, making it well suited to limited space applications including huddle and conference rooms. It can also be easily fixed to medical carts for telemedicine, placed in robotics for receiving voice commands and incorporated into OEM applications.
The AC-44 uses MXL's signature three-capsule boundary design to create a small microphone with a wide pickup arc. The AC-44's wide cardioid pickup pattern focuses on the sources in front of the microphone, while rejecting unwanted noise.
It is powered by simple USB-C connection, making it compatible with any computer without having to download any drivers, and has a rugged, all-metal frame and durable metal grille to withstand the rigors of daily use in industrial environments. The MXL AC-44 is available in three different colours: white, black and cobalt blue, with the ability to offer custom colours and capsule configurations for special applications.
The MXL AC-44 LCR is an advanced 'audio tracking' microphone system that will integrate with software and cameras. This three-microphone array will interface with Zoom Video Communications' new Zoom Room Feature, Zoom Speaker Switch. MXL and Jabra, maker of the PanaCast camera, have also created products that work together to provide a seamless speaker switching conferencing solution.
More: www.mxlmics.com