Pliant Technologies has announced 'a simple and affordable digital wireless intercom solution for any budget' in its new MicroCom.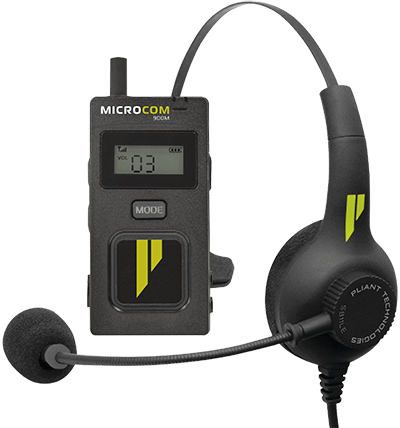 Available in 900MHz (where legal), MicroCom provides single channel, full-duplex, multi-user intercom for applications where high-quality audio, range and low-cost are required. MicroCom has the ability to have up to five full duplex users, as well as adding unlimited listeners without the need for base stations, providing a high level of flexibility.
The system features small, water-resistant lightweight beltpacks and provides excellent sound quality and long-life battery operation, making MicroCom for long-form events and productions. While intended for professional use, the system is very simple to set-up and easy-to-use for situations with less-technical staff and volunteers. MicroCom is compatible with a wide range of professional headsets. The SmartBoom series of Pliant headsets have now been expanded to include versions for use with MicroCom beltpacks.
'With MicroCom, Pliant can now provide an intercom solution for even the smallest wireless intercom requirements,' says VP of Global Sales, Gary Rosen. 'We always appreciate the opportunity to hear our customers' feedback, and that's exactly the input that leads us to offer a product like MicroCom. With this new intercom solution, we can serve customers who have been searching for an intercom with the features, quality, and price tag of MicroCom.'