Biamp has expanded the possible applications for its Parlé Beamtracking microphones through the addition of Devio support.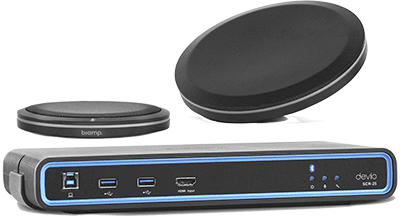 The Devio small conference and huddle room system will now be available with the new TCM-X ceiling or TTM-X tabletop Parlé microphones in addition to the existing TCM-1 pendant option. This combines Devio's single-cable connectivity to all room peripherals with Parlé, delivering Biamp's full conference room audio and video in a unified communication solution that is easy to install, manage and control.
'We have received an extraordinary response to our Parlé microphones,' says said Biamp Executive VP of Corporate Development, Joe Andrulis. 'Our Beamtracking technology provides unparalleled coverage that naturally complements Devio and the needs of huddle room environments. By adding Parlé X-series support to Devio, we are delivering on our promise to provide customers with end-to-end solutions that meet the entirety of an organisation's A/V requirements in all space types.'
The TCM-X is a low-profile, ceiling mounted microphone housed within a discrete enclosure. For rooms where a tabletop microphone is desirable, the TTM-X is small enough to fit in the palm of a hand, minimising the amount of table space required. Both models feature four 90° Beamtracking zones, delivering dynamic 360° room coverage, while granting participants freedom of movement throughout the room. The Parlé mics use only one channel of acoustic echo cancellation (AEC) for efficient processing resource.
Designed for BYOD spaces, Devio is a cost-effective, easy-to-use platform that gives full access to a room's peripherals to all common computers and phones. A single cable connects a meeting participant's laptop to the technology within the space, providing instant access to the room's displays, speakers, microphone, web camera, and other tools. Integrators and technology managers will benefit from the Auto Setup feature that quickly validates device connections, adjusts room levels, and sets speaker EQ to optimize audio quality. Delivered as a bundled professional audio and video package, Devio eliminates all the pain points of system design, installation, and programming.
The Parlé TCM-X and TTM-X microphone bundles for Devio will be available in Q3 2019. The DTM-style tabletop microphone will continue to be available.
More: www.biamp.com