The next evolution of Shure's array microphone system, the Microflex Advance MXA910 Ceiling Array Microphone now offers IntelliMix DSP, serving integrators, consultants in equipping collaborative speech environments.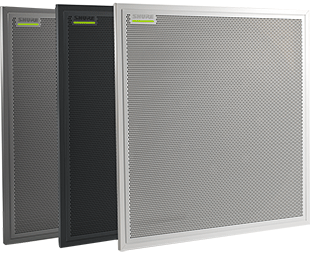 Designed for spaces that demand an seamless and connected audio, the MXA910 microphone with IntelliMix DSP enables broad, cost-effective deployment in an attractive industrial design – suitable for a variety of rooms with specific aesthetics requirements – including corporate conference rooms, government facilities, special event venues and higher education campuses. crystal clear audio is more important than ever.
The new MXA910 microphone combines array microphone technology with Shure IntelliMix DSP, providing acoustic echo cancellation, noise reduction, and automatic mixing. Patent-pending Autofocus Technology continually tunes the position of each speaker lobe in real time, for consistent sound when participants change position in their chairs or stand.
The MXA910 microphone with IntelliMix DSP features 'ease of deployment' capabilities. These include simplified templates and Autofocus Technology for immediate out-of-box se-tup. Designer software compatibility provides unmatched ease of configuration, so installations can happen more quickly and efficiently.
It can directly connect to a hardware or software codec using the DSP embedded in the ceiling microphone. When used with a Shure audio network interface (ANI), it provides users with a simplified room solution that provides a microphone and DSP in one cost-effective package.
Integrators can also incorporate multiple MXA910 microphones and the Shure IntelliMix P300 Audio Conferencing Processor for room expansion and scalability, thanks to its distributed DSP architecture.
'Over the past few years, the adoption and adaptability of the MXA910 has delivered premium audio for video conferences, meetings, and lectures all over the globe,' says Director of Global Systems Marketing, Chris Merrick. 'Now, with the support of Shure IntelliMix DSP, the MXA910 addresses the ever-evolving needs of today's most critical meetings and conferences to deliver highly intelligible audio quality that fosters natural dialogue and enhanced collaboration.'
More: www.shure.com/mxa