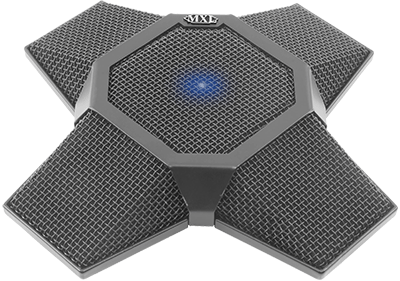 MXL Microphones has released the MXL AC-360 universal USB-powered, table-top web conferencing microphone, designed for us with all major video conferencing platforms on the market – including GoToMeeting, Skype+Teams, Zoom, Lifesize and others.
The AC-360 follows the company's AC-360-Z, which was co-designed with engineers from Zoom Video Communications to be a preferred hardware selection for Zoom Rooms and Zoom Meetings software. The AC-360 is now universally compatible with every top video software codec on the market, bringing its 360° pickup, speech clarity and power through USB-C to a wider market.
The MXL AC-360 uses 12 internal microphone capsules, divided into four quadrants, to provide 360° of speech intelligibility within a 25ft. radius, without reliance on additional equipment. It is compatible with any Mac or PC device through simple plug-and-play connectivity without needing to download any drivers. Each quadrant of the AC-360 acts as an independent device for optimal performance and fidelity, and each AC-360 microphone ships with a complete installation kit including cables and mounting options.
'With the introduction of the AC-360 Web conferencing microphone, we are raising the bar and delivering an unrivaled unified communication experience that is compatible with every widely used Web conferencing platform,' says MXL Microphones Director, Scott Krueckeberg. 'With its amazing speech clarity and full 360° pickup range, we've designed an elegant solution for providing maximum coverage with minimal hardware.'
More: www.mxlmics.com