Audio-Technica has unveiled the new ATUC-IR infrared conference system, joining the ATUC-50 digital discussion system in the company's conferencing systems line-up. Designed to deliver exceptional security, scalability and flexibility, the ATUC-IR's infrared design ensures that signals are confined within conference space walls and can be employed in situations – such as in historic buildings – where limitations exist on the use of wired systems.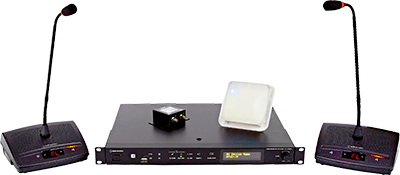 Thanks to the hybrid technology of the ATUC-IRCU central unit, the advantages of infrared transmission technology and existing ATUC-50 components can be combined without having to use an additional central unit. And by linking one ATUC-IRCU (or the Dante-compatible ATUC-IRCUDAN) with up to two additional ATUC-50CUs, a maximum of 500 discussion units (200 infrared and 300 wired) can be achieved in a single installation. The ATUC-IRCU or ATUC-IRCUDAN controls all connected discussion units in this combination and allows users to record to a USB device.
The ATUC-IRDU discussion unit features two multi-function buttons (that can be shared between two delegates), two headphone outputs and customisable RGB LEDs – the unit's rechargeable batteries can also be swapped during operation when two batteries are in use.
For multi-language applications, up to six interpretation units (ATUC-50INT) can be connected to the system to handle up to three languages. Based on the already established ATUC-50, the ATUC-IR also includes full control via web remote control, IP control functionality for access from third-party control systems and a built-in feedback suppressor.
'When we first started creating microphones at Audio-Technica in 1978, they were used in professional environments such as in studios, stadia or on stages,' says Audio-Technica Engineering Department Manager, Takahiro Domae. 'Since then, they have been used in some of the world's most renowned studios and on stage with some of the biggest artists. This experience has enabled us to develop an array of crystal-clear microphones that can be used within a conferencing system that offers secure communication for up to 500 delegates.'
More: www.audio-technica.com