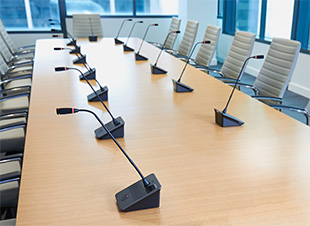 Audio-Technica has announced a firmware update (v1.6) for the ATUC Digital Wired Discussion System that doubles the number of delegates that can be accommodated. Three control units can now be used to power as many as 300 delegates at once.
Version 1.6 firmware update also supports the new ATUC-50IU, a microprocessor for custom designed flush mount conference units for the ATUC-50 system. It can be placed anywhere in the same chain/loop with other ATUC-50 units, where the architecture of the system requires seamless, hidden installation of the microprocessor. With 16 GPIOs (general-purpose inputs outputs), this unit can also provide signal for a variety of desired combinations of features, for example: up to eight buttons for external voting, different presets, and other conference related commands.
Key features:
Select default preset when the system is switched on.
Easy mode for simultaneous interpretation.
Mixing audio inputs: mic, line-in and aux to Language 1 Channel 1 and/or 2.
Bypass gain share in each audio group.
Notification commands for Cut and Mute to the IP remote.
To download the new firmware free of charge, ATUC-50 users should contact their local Audio-Technica representative.
See also:
More: www.audio-technica.com