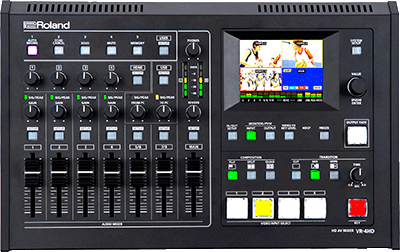 Roland has announced the VR-4HD High-Definition AV Mixer, billing it as an easy-to-use, compact and portable A/V mixer that integrates a digital audio mixer, video switcher, multi-viewer touchscreen and USB video/audio streaming interface into a stand-alone device.
Designed as an all-in-one HD AV Mixer with built-in USB 3.0 for web streaming and recording, the VR-4HD represents a complete HD studio in a compact and portable package that replaces several different pieces of complex A/V equipment. With single-person operation in mind, the VR-4HD enables switiching and mixing of sound and video using advanced video and audio DSP, along with dedicated hardware control faders, buttons and touch screen interface.
As a portable live HD production switcher, it is intended for use in schools, churches, council meetings, corporate events, sports, training sessions and other live events.
Key Features:
· Dedicated hardware controls and audio faders and integrated touch screen preview monitor.
· 6-input, 4-Channel Video Switcher.
· Supports HDMI, RGB/Component, and Composite Video Inputs up to 1080p.
· Built-in-scaler via Channel 4.
· 18-channel audio aixer with XLR, TRS, and RCA jacks, and audio from HDMI inputs.
· Embedding and de-embedding of audio with delay settings.
· Auto mixing and echo cancelling function.
· Composition effects including DSK (Downstream Keyer), picture-in-picture etc.
· Built-in touch quad-input multi-viewer with audio metering.
· External multi-view output through HDMI.
· HDCP support.
· USB 3.0 video/audio output up to 1080/30p (uncompressed) and audio loopback.
· Software control using VR-4HD RCS application for Mac OS and PC and remote control via USB.
· Tally, GPIO connections.
The VR-4HD is expected to be available during Q1 2017, at an estimated RRP of £3,500.00 inc. VAT (subject to confirmation during Q1 2017).