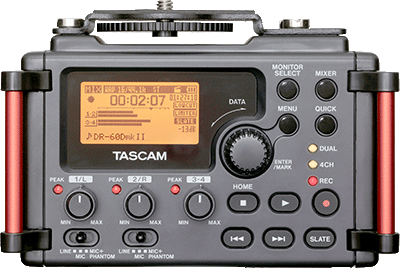 Tascam has announced the DR-60D MkII four-track recorder for video production.
Designed to be mounted to a camera, the updated recorder is equipped with new microphone preamps with up to 64dB of gain, and its two XLR mic inputs and two stereo inputs can be recorded individually. A Dual Recording mode captures an additional safety track.
The HDDA mic preamplifiers (High Definition Discrete Architecture) employ discrete circuitry and premium parts, and achieve a high EIN (-120dBu) using Cirrus Logic AD converters. It can record up to four tracks simultaneously, allowing multiple microphones to be used while filming. Inputs 1/L & 2/R can be selected for mono or stereo link operation.
Three sets of stereo outputs are provided. A Camera Out sends a reference track recording to the camera. The Line Out can feed a mixer or recorder. A Headphone Out is available for direct monitoring. Each of these outputs has its own level control, and the Camera Out can be attenuated to microphone level without the need for an attenuating cable.
The DR-60D MkII has an internal digital mixer fowith pan and level control. It is also equipped with a limiter or high-pass filter (40/80/120Hz), and set individual channel delay.
A variety of recording modes are supported:
· Mono/Dual Mono mode for single source microphones.
· Stereo/Dual Stereo mode for shooting with a stereo or mid-side (MS) microphone.
· Internal MS decoding can be added during monitoring or before recording.
· 4CH mode records all four microphone inputs to their own tracks.
· Dual Mono/Dual Stereo mode records a safety track from -6dB to -12dB below the initial take.
· Remote Jack accepts either the RC-3F footswitch-type remote control or RC-10 wired remote control.
The Channel 3/4 input connector supports a high-level maximum input – up to +10dBV. Many microphones designed for use with video cameras have a high-level output and a 3.5mm output connector. Plug-in power is also available for microphones.
The keys of the unit are designed for quiet operation to eliminate handling noise and the Slate feature is designed to mark tracks while in production.
More: http://tascam.com