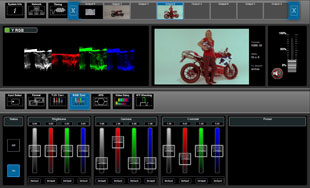 After its presentation at NAB and IBC, Lawo's first video device V__pro8 has been brought to v1.0 level released as a regular product. Using a GUI based on HTML5, it combines a number of operations for maximum efficiency and operating safety at optimal cost.
Lawo has developed the V__pro8 for displaying video in a small footprint, connecting signals of different video formats as well as providing a bridge between audio and video. It offers high-quality cross-format conversion, colour correction as well as embedding and de-embedding. Modern high-density audio connections, such as Ravenna and Madi, provide video-to-audio bridges within the studio infrastructure.
The V__pro8 also works as a flexible matrix system: thanks to a 8 x 8 video matrix and a 384 x 384 audio matrix it is possible to switch any signal to any other signal.
More: www.lawo.de