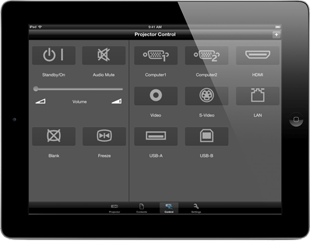 Extending the operability of its 3LCD projectors, Hitachi America has released the Projector Quick Connection iPad app. Projector Quick Connection enables users to monitor and control multiple Hitachi projectors from a single iPad, using four pages – Projector, Contents, Control and Settings.
Selecting the Projector page brings up an icon for every Hitachi projector connected to the iPad, with each projector's IP address listed with the corresponding icon. Users can connect to any of them at any time by clicking the corresponding icon. Projectors must be equipped with a USB wireless adaptor to connect to the iPad.
The Contents page displays content from an iPad on selected Hitachi projector/s. This includes documents, pictures and web pages.
The Control page provides access to control functions for each projector. These functions include Standby/On, Audio Mute, Blank and Freeze. The input source selection area allows users to choose from two computer ports, two USB ports, HDMI, Video, S-Video and LAN.
The Settings page provides access to advanced functions, including Presenter Mode, which enables the user to prevent a projector from connecting to another iPad. It also allows the user to select the display mode: either Full Image mode or 4 iPad mode (which can display content from up to four iPads on the same image).
'As the iPad becomes more ubiquitous in schools, businesses, houses of worship and numerous other environments, we see an opportunity to provide our customers with even greater ease of use and freedom,' says Product Manager for Hitachi America's Digital Media Division, Business Solutions Group, John Glad. 'The Hitachi Projector Quick Connection does just that, and what's more, it's free for download from the iTunes store.'