Tascam has announced the VS-R264 and VS-R265 4K/HD Video Encoding, Streaming, Recording and Decoding devices (bi-directional) in HEVC/H.265 or H.264. In a compact 1U-high, half-rack footprint, they can be rack mounted or screwed under a desk, with styling that will also suit positioning on a desktop.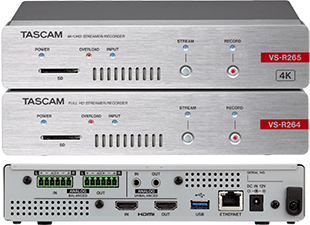 Features include simultaneous A/V encoding, streaming, recording and decoding over corporate networks and WANs, live streaming via the Internet, plus automatic FTP upload of recorded files to network storage. Utilising open streaming formats and protocols, the VS-R series support CDNs and online live platforms including YouTube, Wowza, Ustream, AWS Elemental MediaLive & CloudFront and others.
Whereas many other products either lack professional audio levels or connectors, don't record at all, or can't simultaneously encode and decode, TASCAM's VS-R series sports fully balanced audio I/O via Euroblock connectors, with configurable reference levels for compatibility with professional audio systems. Unbalanced 3.5mm stereo mini jacks are also provided for compatibility with consumer devices.
The units' bi-directional A/V operation, live online streaming, secure capture to SD/USB media then later upload to a website is suited to for live events, lectures, government sessions, boardroom presentations, concert venues and houses of worship, also for connections between rooms or locations.
With power from PoE+ and external 12V DC, HDMI in/out with audio embedding and de-embedding, and full control from a RESTful API allowing for integration into automation/control systems, these units are extremely versatile.
More: www.tascam.eu