Roland has introduced the VR-1HD– a mixer for dynamic multicamera broadcasting that outperforms videos streamed from a mobile phone or static webcam.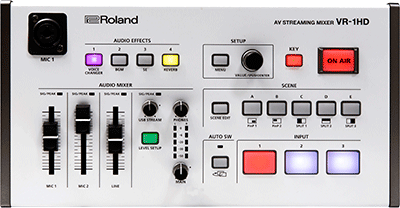 Each of the three inputs of the VR-1HD accepts HD and computer video resolutions to connect, switch and stream cameras, presentations, game play, smartphones and tablets. Embedded audio can be mixed with line inputs and two studio quality XLR microphone inputs. The mixer allows users to go hands-free and headset-free while live streaming with a top mounted mic input, so creators can use a gooseneck microphone and easily operate the VR-1HD with dedicated controls.
VR-1HD's video editing software provides users with its Scene Switching functionality, allowing instant switching between scenes. The mixer lets creators preset up to five scenes that they can later use while live streaming videos and performances.
Video Follows Audio provides the capability to switch cameras based on who is speaking into the microphone. If both participants speak, or remain silent at once, the VR-1HD can switch to a wide shot capturing both performers. Beat Sync Switching 'listensl to the tempo of a performance and automatically selects which camera inputs to switch between. Auto Scan is used for extended live streams with no operators, giving the ability to pre-set a specific time for switching between sources.
Users can take advantage of preset sound effects, jingles and theme songs and more assignable to Audio Effects buttons, to play during a video or performance. Performers can share content with the same connection technology as a traditional webcam. Simply plug it in to a computer's USB port for a fully produced live cast or recording and engage with your audience on platforms such as Twitch, YouTube and Facebook.
Key features:
Three HDMI inputs that accept HD and computer video resolutions.
Two-studio quality XLR microphone inputs and line input.
Mic input for a gooseneck mic for hands-free/headset-free performance.
Scene switching functionality, with five preset scenes.
Audio Effects functionality allows sound effects, jingles and theme songs in videos/performances.
Auto Switching modes make it easy to put on a one-person show.
Automatic mixing and built in EQ, gates and compressors.
Voice Changer effect from Roland's VT series of Voice Transformers.
Stream performances and presentations through a computer's USB 3.0 port.
The VR-1HD will be available in Q2 2019 at Roland retail partners.
More: http://proav.roland.com