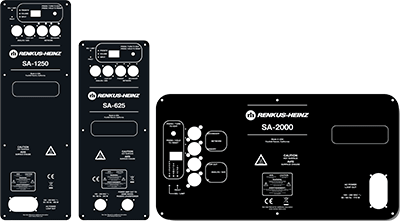 Renkus-Heinz has announced the SA Series amplifiers, 'a new and powerful technology designed to unite all Renkus-Heinz loudspeakers across unified connectivity and control platforms'.
Renkus-Heinz has designed the SA Series amplifiers to provide the cleanest possible sound quality and performance, even with the most complex audio signals. Making their debut with the new C and T Series point source loudspeakers, Renkus-Heinz SA Series amplifiers will ultimately enable all Renkus-Heinz loudspeaker models to be freely combined, offering full networking capabilities, Rhaon II control and monitoring, and connection via a choice of analogue, AES/EBU or Dante single or redundant network input.
The SA Series comprises three models – the SA-625 amplifier outputs 500W+125W; the SA-1250 outputs 1kW+250W; and the SA2000 delivers a total of 2kW. With power to spare, SA Series amplifiers deliver more than enough power to drive additional loudspeakers, and all models are equipped with output connections to power external drivers.
All SA Series amplifiers are equipped with native DSP, including delay, equalisation, multichannel limiting and noise reduction, with nine available preset memories. Connectivity configurations include analogue input, as well as Rhaon II control and monitoring, with networking connectivity in copper and optical formats.
More: www.renkus-heinz.com