Crown Audio has revealed its the generation line of XLS Series amplifiers.
Comprising four models, Crwon promises 'an unprecedented level of performance and configuration flexibility that ushers in a new era of power amplification at the entry level'.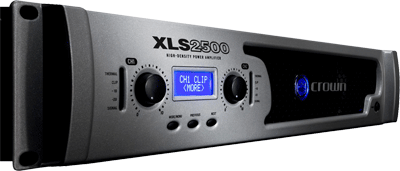 The XLS amplifiers use the propietary flexible PureBand Crossover System, that allows users to select crossover points from 50Hz to 3kHz for precise matching of crossover points on bi-amplified loud speakers. Increased control is offered through three channel modes, and the clip limiters designed to protect loudspeakers that can be turned on and off by channel. Further simplifying ease of use, front-panel LCDs provide a menu-based system for set-up and diagnostics.
XLS Series amplifiers conform to Harman Professional's Green Edge environmental initiative – Crown's circuit components use fewer resources in manufacturing and contribute to significant weight reduction in the amplifiers that result in less energy consumption. The XLS amplifier's high operating efficiency translates into greater output efficiency and a significantly reduced carbon footprint.
More: www.crownaudio.com