Powersoft Audio has announced the new Quattrocanali series of four-channel power amplifiers, joining the Duecanali (two-channel) and Ottocanali (eight-channel) models that comprise the company's installation amplifier offerings.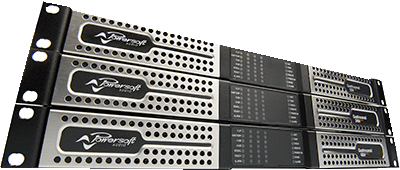 The new line comprises the Quattrocanali 4804 (1.2kW/channel @ 8Ω; 1.5kW/channel @ 2Ω; 3kW bridged @ 4Ω), Quattrocanali 2404 (600W/channel @ 8Ω; 800W/channel @ 2Ω; 1.2kW bridged @ 4Ω), and Quattrocanali 1204 (300W/channel @ 8Ω; 500W/channel @ 2Ω; 1kW bridged @ 4Ω). Quattrocanali amplifiers may be integrated within 70V-100V distributed line systems.
This new 1U-high, four-channel amplifier platform is aimed at bars, restaurants, retail outlets, fitness centres and similar applications. It features Powersoft's switch-mode power supply with power factor correction, smart rail management and bridgeable switch mode class-D output circuit topology.
Where the established Ottocanali amplifiers target larger installations with mission critical requirements, the Quattrocanali series addresses the requirements from small and medium applications. 'Here the channel count is limited but the need for a flexible product to work with Hi-Z and Lo-Z systems is a must,' says Marc Kocks, Business Development Manager for Fixed Install. 'In particular, the new Quattrocanali 1204, featuring 300W per channel, can open up a new market for Powersoft that historically belongs to higher power applications.'
'We believe that in many small installations, like leisure venues and retail spaces, where sonic quality and simplicity of use are important, this product will quickly become a best seller – because for the first time users have a competitive choice in Powersoft product's catalogue,' adds Sales Director, Luca Giorgi.
Mindful of environmental issues, switch mode power supplies enable the Quattrocanali to be fitted inside a 1U enclosure – allowing a greater number of amplifiers to be carried in a single shipment, reducing CO2 emissions generated by moving large volumes across the world.
Quattrocanali amplifiers are available in both DSP and non-DSP versions, both fully remote controllable via standard GPI/O connections on the rear panel, Powersoft's Armonìa, dedicated web app or third-party application. This provides access to all functions from a decentralised location, further reducing the need for personnel on station. The fully-customisable interface seamlessly integrates all devices in one easy-to-manage screen.
When limiting access to the controls becomes paramount, the installer can set up different criteria through the access manager, limiting guest users' access to monitoring functions while leaving full operability to admin users.
Remote access to the Quattrocanali is available both through standard Cat5 cabled and wi-fi networks, via laptop, PC, tablet or smartphone. Quattrocanali's architecture may also be trusted in mission-critical applications where sound clarity and intelligibility are paramount, by exploiting the GPI/O connections.
Non-DSP versions of Quattrocanali offer control over channel and master volume; mute; fixed high-pass filters at 35Hz and 70Hz; remote on/off via dedicated GPI inputs; remote system alarms via GPO outputs; and channel and master volume via GPI/O dedicated ports.
DSP+D Versions of the Quattrocanali feature full compatibility with Ottocanali and X Series amplifier platforms, offering control via Armonìa of four Dante input channels; channel and master volume; mute; remote on/off; crossovers; limiters; equalisers; delays; active damping control and signal routing.
More: www.powersoft-audio.com