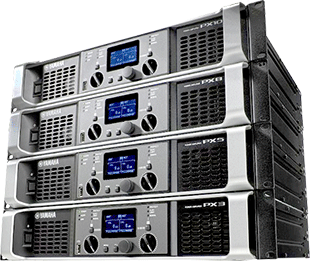 Yamaha PX Series amplifiers – four models, each providing high performance and advanced processing, with power outputs ranging from 300W (PX3) to 1kW (PX10) into 8Ω – are aimed at a wide range of live and installed applications.
All PX amplifiers are driven by a newly developed class-D amplifier engine that concentrates all the necessary functions into a single custom LSI chip. Yamaha's PLL technology controls transfer characteristics in real time, achieving exceptional sound quality and power. High-quality processing includes onboard parametric EQ, crossover, filters, delay and limiter functions as standard. All models feature Yamaha's intelligent D-Contour multi-band dynamic processing, allowing consistent clarity and high-quality sound at any output level.
Each model features an LCD for quick and easy system set-up, with eight programmable presets for instant recall and reduced set-up time that can be saved to a USB thumb drive and shared with other PX amplifiers. Designed to be user-friendly for any experience level, the PX Series also offers Basic and Advanced modes, meaning that inexperienced users can configure a system that meets their needs, while allowing experienced users to have precise control over every aspect of operation.
A Config Wizard allowing users to assign optimised speaker settings to match a system configuration. It features presets specifically tuned to each model in Yamaha's extensive line-up of passive speakers and an advanced mode that allows for more detailed configuration of parameters such as input routing, input sensitivity, amp gain, and speaker impedance.
Housed in a rugged 2U-high rack chassis with integrated carrying handles, PX amplifiers feature XLR and TRS inputs plus binding post, SpeakOn and phone outputs, offering the flexibility for a wide variety of environments and the durability to stand up to extended road use.