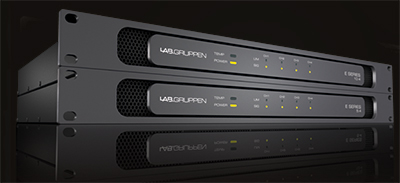 Lab.gruppen has expanded its E Series of installation amplifiers with the first four-channel models in the range, the E 10:4, E 5:4, and the two-channel E 2:2.
With introduction of four-channel models, the E Series offers eight channels configurable in any of 21 power output and channel combinations in the samespace as one 2U C Series unit. Options include one-to-one alternatives for the C 20:8X (with two E10:4s in a 2U-high space) and the C 10:8X (with two E 5:4 units).
The new flagship model of the E Series, the E 10:4, provides four discrete inputs and four flexible output channels producing 1kW of maximum output at 4Ω, 8Ω, 16Ω or into 70V. Nominal maximum output per channel is 250W, but with the E Series' proprietary asymmetric power loading capability, one channel can produce output beyond the nominal maximum when other channels have lower power requirements. Each channel may be individually optimised to drive either a low impedance (4Ω/16Ω) or a 70V load. The E 10:4 is certified Energy Star 3.0 compliant, and its extraordinary flexibility allows users to maximise system efficiency and inventory use.
The E 5:4 also provides four channels of amplification with the same features as the E 10:4, but with a maximum total output rating of 500W (4 x 125W nominal at 4Ω/16Ω or 70V), while the new two channel addition, the E 2:2 (2 x 100W) allows installers an exceptionally cost-effective option for lower power applications.
All six E Series amplifiers feature Lab.gruppen's Ideea (IntelliDrive Energy Efficient Amplifier) output stage for extremely low power consumption and heat emission. The Rail Switching Limiter circuit optimises the output for instantaneous load conditions, ensuring a superior power-to-current draw ratio for reduced running costs and minimal environmental impact.
Other installation-orientated features of all E Series amplifiers include detachable screw terminal blocks for input (balanced) and output connections, and 50Hz high-pass filter switchable per channel, auto power on/off functionality, GPI facility for external control, comprehensive circuit protection and fault indication, and low-noise temperature controlled fans.
'The C Series of amplifiers quickly became one of our most successful products, not only because of its superb sound and durable build quality, but also because of its power density and flexibility,' says Lab.gruppen Product Manager, Klas Dalbjorn. 'However, with the expanded E Series, now we can offer the same power density with an even lower current draw, Energy Star certification and reduced overall costs coupled with unprecedented configuration flexibility for operation into low impedance or 70V loads.'
More: www.labgruppen.com