KME's Preset-Editor & Wizard software allows the creation of presets for the company's DA428 and DA230 digital amplifiers.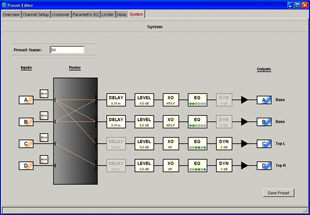 The editor offers an overview of the functionality of the routing matrix and integrated DSP. Within the routing matrix, the input channels (analogue/digital) can be assigned to specific outputs. The audio DSP parameters for channel set-up, crossover, EQs and limiter of each channel can also be edited.
The Preset-Wizard enables system presets for the Versio series to be chosen from the library, and adapted for different application characteristics, such as full-range, monitor or satellite set-ups.
The creation of ProUser-Presets allows integrators to predefine which user settings in the menu are accessible and which are locked, providing easy-but-safe operation of the amplifier in complex applications (5.1/7.1 surround-set-ups).
The presets created by the software are transferred by an SD card to the amplifier. Once created, these can be transferred to the amplifier using an SD card User presets already saved on the preset storage of DA428/DA230 can be reverse transferred to the SD card, reading and adjusting the presets by the software is now possible.
The software is available for Windows 2000, XP, Vista and the latest Windows 7 for 32/64 bit. Support for Apple Mac OS will follow, estimated in Q1 2011.
More: www.kme-sound.com