d&b audiotechnik has announced the 10D and 30D amplifiers, its first models tailored for permanent integration.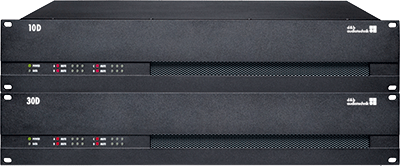 The 2U-high 10D and 30D deliver 700W and 1.6kW/channel respectively and share the same DSP platform and capabilities as the d&b D20 amplifier and the flagship D80. They provide comprehensive loudspeaker management and switchable filter functions, as well as two 16-band equalisers (parametric, notch, asymmetric and shelf) and up to 10s of delay for each of the four channels. Between them they cover almost all install applications, differing only in output voltage and loudspeaker set-ups. The DSP capabilities are also ready for further expansion via firmware updates.
The 10D and 30D offer five programmable General Purpose Input pins, meaning external devices can be used for control or detection functions. They also provide both four analogue and four digital AES/EBU inputs, which can be summed and routed to any of the four outputs. This input matrix allows all eight inputs to be used simultaneously. In addition, each input features an independent input gain, which means various input sources with different levels, can be used without requiring an external mixing device. System status monitoring ensures suitability for sound reinforcement systems for emergency situations.
These amplifiers can be accessed using either Can-Bus, or via Ethernet using the Open Control Architecture (OCA) protocols. They are controlled using the d&b R1 Remote control software, which presents an entire system graphically, enabling the central control and management of a complete system. Password protection functions restrict access, and AmpPresets enable users to change predefined levels or configuration settings of devices. Alternatively, the 10D and 30D can be controlled using the integrated web interface, allowing individual amplifiers to be controlled using a browser window.
The 10D amplifier is intended for small applications with lower SPL requirements – bars, lounges and conference facilities with flexible room configurations. It features set-ups for all d&b loudspeakers except the large-format J-Series line array, the V-Series and the M2 monitor.
The 30D amplifier contains configurations for all d&b loudspeakers and is designed for medium to large applications with demanding SPL requirements – stadia, nightclubs, musical theatres, houses of worship and town halls.
'These new devices answer the demands for a d&b amplifier designed specifically for installations,' says Product Manager, Wolfgang Schulz. 'The predictable results from our mobile systems are now available for fixed installations, with very cost-effective and efficient results. They offer a new price to performance for our installation customers and the d&b sound quality, reliability and flexibility that everyone has come to expect.'
More: www.dbaudio.com