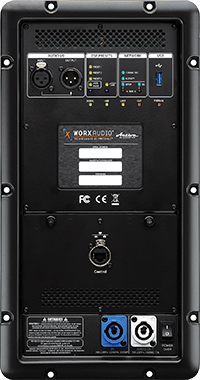 WorxAudio Technologies has announced the PDA Series of power amplifiers, offering Dante and AVB audio networking options, onboard DSP and SL Room Control software integration.
The PDA-2000A and PDA-2000D are 2kW, four-channel amplifiers (500W/channel 1kW peak) with internal DSP. The PDA-2000A includes the AVB card, while the PDA-2000D incorporates the Dante card. The PDA-1000A and PDA-1000D are two-channel amplifiers, rated at 500W/channel and 1kW peak, and are equipped with onboard DSP. AVB (PDA-1000A) and Dante networking capability (PDA-1000D) are optional.
Networking provisions of the PDA-2000D include onboard Ethercon and the included USB Wi-Fi LAN adapter. The PDA-1000D features onboard Ethercon. Line input for all four models is via locking XLR with XLR thru.
SL Room Control software for Mac, Windows and iPad offers complete control over compatible WorxAudio loudspeakers and power amplifiers. SL Room Control features include 800ms alignment delay, a fully variable compressor, and selectable filter type for the high- and low-pass filters, high and low shelving filters, and PEQ filters.
'The PDA Series power amps bring a wealth of functionality to today's pro touring and installation projects,' says Hugh Sarvis, Managing Director of PreSonus' Loudspeaker Division. 'With integrated DSP and the SL Room Control software, loudspeaker management is always at the ready. Similarly, our support for Dante networking capability provides the ability to seamlessly interface our equipment into large-scale projects with ease. Working with PreSonus' engineers has been great, and I look forward to many more system solution products in the near future.'
The PDA-series power amplifiers are expected to be available in Q3 2015.
More: www.worxaudio.com