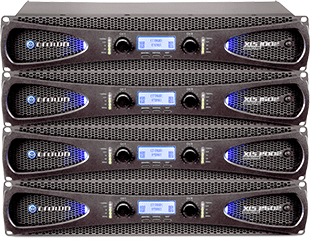 Crown Audio's XLS DriveCore 2 Series two-channel power amplifiers, offer upgraded features over earlier models in the series, including more flexible DSP band-pass filtering, selectable input sensitivity, remote sleep mode trigger and new styling.
Four new XLS DriveCore 2 models are available – the XLS 2502, XLS 2002, XLS 1502 and XLS 1002, with power ratings from 350-775W/per channel at 4Ω and 1.1-2.4kW at 4 Ω bridged. All use Harman's DriveCore amplifier circuitry, combining high power output with energy efficiency, weighing in at under 11lbs (5kg).
Crown XLS DriveCore 2 amplifiers offer a band-pass filter on each channel in addition to the earlier low- and high-pass filters, enabling more precise DSP tuning. All models allow the front-panel LED indicators (except the clip and thermal indicators) to be turned off if desired, reducing distraction in dark venues. All the amplifiers have selectable input sensitivity of either 1.4Vrms or 0.775Vrms, facilitating their use in a wider variety of applications and enabling the amplifiers to be driven at full power no matter what the input.
The amplifiers also offer a remote sleep modetrigger function, to reduce power consumption from a distance. The amplifiers also feature a display sleep mode that turns the display lighting off after a specified time. All models provide a security setting that disables the front-panel menu buttons; the menu is locked and unlocked by entering a simple button combination. In addition, a system reset function enables all factory settings to be restored.
Power ratings of the XLS DriveCore 2 models (per channel into 4Ω) are: XLS 2502, 775W; XLS 2002, 650W; XLS 1502, 525W; XLS 1002, 350W. All incorporate Crown's proprietary DriveCore class-D amplifier design, which combines the amplifier driver stage into the power output stage along with additional audio-signal functions.
Crown XLS DriveCore 2 amplifiers can drive 8Ω, 4Ω or 2Ω loads, and can be bridged for 8Ω or 4Ω mono operation. Additional features include Peakx limiters that deliver maximum output while protecting the speakers; balanced XLR, quarter-inch and RCA inputs; touchproof binding post and Speakon outputs. All Crown XLS DriveCore 2 amps are covered by a three-year, no-fault fully transferrable warranty.
More: www.crownaudio.com