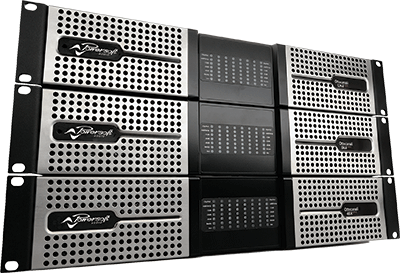 Expanding its Ottocanali Series of power amplifiers, Powersoft has announced new three high-performance 8-channel DSP+D models.

The Ottocanali DSP+D line offers a wide range of system control and monitoring functions, as well as sound shaping options and a total of up to 12kW output( at 4Ω over eight channels for lo-Z or distributed line systems) in a double rack unit.
As with previous Ottocanali models, the DSP+D versions feature switchable main and aux signal inputs per channel, adequate GPIO, alarms, Lo-Z and Hi-Z output connections, as well as mono-bridgeable channel pairs. All models offer two redundant universal switch mode power supplies with PFC (Power Factor Correction) and SRM (Smart Rails Management) technology that maximises the efficiency of the system as well as drastically reduces power consumption.
With two redundant Dante digital streams, the Ottocanali 4K4 DSP+D, Ottocanali 8K4 DSP+D and Ottocanali 12K4 DSP+D will fit any venue as standalone unit, making them well suited to multi-zone applications in mid to large-scale installs.
Powersoft's approach to efficiency saves energy, keeping both operational cost and carbon footprint to a minimum. The new Ottocanali series draws low power and has minimal heat dissipation, dramatically reducing costs from the AC mains supply and air conditioning/cooling systems – and 'green' benefits.
More:
www.powersoft-audio.com