Crown has introduced the USBX, an accessory that enables Crown XTi, CDi and DSi Series amplifiers with a USB port to be operated via an Apple iPad/iPhone using the Powered by Crown app.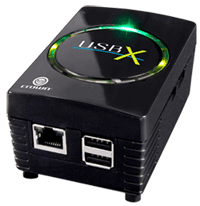 'USBX greatly expands the control options available to users of our XTi, CDi and DSi amplifiers by adding iPad/iPhone operation and wireless connectivity,' said Andy Flint, Business Segment Manager for Portable PA at Crown. 'It's perfect for setting up, monitoring and troubleshooting amplifiers in a wide variety of applications including small to medium fixed installations, mobile PA systems and movie theatres.'
The USBX allows Crown amplifiers equipped with a USB port to be controlled via Ethernet. The USBX plugs into an AC outlet and up to eight compatible Crown USB products can be connected to the USBX. The USBX has built-in Wi-Fi, enabling wireless control of connected Crown amps via an iPad or iPhone and the 'Powered by Crown' App without the need for a separate wireless router.
The Powered by Crown app allows wireless control and monitoring of Crown Ethernet-enabled devices and JBL loudspeakers that are equipped with DrivePack DPDA built-in amplifiers. Since this app uses the same protocols as Harman HiQnet System Architect, users can import custom control panels from System Architect into the Powered by Crown app for additional functionality.
Calling it 'a strategic long-term commitment to Ethernet technology', Crown has exploited a cost-efficient technology to allow integration of legacy and future Crown products into future systems.
The Crown USBX will be available in February 2013 at a suggested retail price of US$249.99.
More: www.crownaudio.com